Up-and-coming or Experienced Service Designers
Stavanger & Trondheim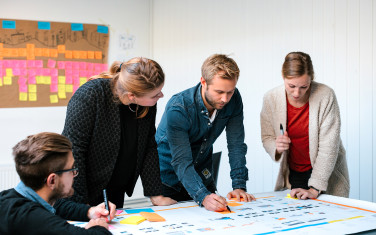 Up-and-coming or Experienced Service Designers
Stavanger & Trondheim
Do you love creating stunning visual deliveries of your service design projects? And are you an accomplished service designer? Or perhaps one of the many up-and-coming designers fresh out of university? We are seeking up-and-coming service designers for both our Stavanger office and our Trondheim office and an experienced service designer for our Trondheim office. Perhaps EGGS could be something for you!
Working with EGGS
We would love to see you fulfill your potential in EGGS where you will contribute to further developing one of the best service design teams in Norway. We are looking for someone who also can help clients develop outstanding service identities, visual communication, and information related to new services.
Your skills include
Service design methods such as user insight and service concept development

Strong visual communication skills

Visualizing deliverables with graphics, illustrations and/or videos

Developing visual identities and communication of services in both digital and physical media

Leading and facilitating workshops and design processes

Fluency in a Scandinavian language
Your mindset is
Holistic with a flair for complex challenges

Empathic with a drive to make people tick

Assertive with a go go go spirit

Funergetic with a play to win attitude
We give you
The world's best creative nest

Inspiring and meaningful projects

Money
Please send
Your CV

Your portfolio

Your letter of motivation
Application deadline
For work in Stavanger - apply here
Sounds interesting?
Have a chat with our
Chief Creative Officer — Jan Walter Parr
+47 90854339