Senior Service Designer
Trondheim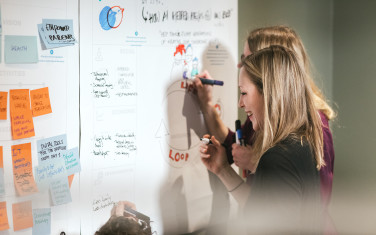 Senior Service Designer
Trondheim
Do you wake up in the morning with a desire to design meaningful services and products? Does your heart beat for creating sustainable change within domains like healthcare, mobility and ocean-tech?
Working with EGGS
We at EGGS Design Trondheim are looking for an experienced and ambitious person who can strengthen our team. You might be a senior service designer, business innovator or facilitator of design driven innovation. You are a creative individual with deep curiosity for innovation, people and co-creative processes.
EGGS Design has industrial design as our backbone, and future colleagues of yours are Service designers, Digital designers, Product designers and Creative developers in Sao Paulo, Copenhagen, Oslo, Stavanger and Trondheim. If you enjoy team work and contributing to multidisciplinary design-deliverables, then our creative nest might be your new professional home.
Your skills include
Service design and innovation methods such as new service concept development, value proposition design and user journeys

People centered innovation methods such as user insight and co-creative processes

Business centered innovation methods such as business model development

Developing holistic concepts with business, digital, and physical components

Leading and facilitating design and innovation projects

Managing creative teams

Interest in handling client relationships and initiating new projects

Visual communication skills such as sketching and visual process documentation

Conveying design through presentations, keynote lectures or blog-posts

Fluency in a Scandinavian language
Your mind-set is
Holistic with a flair for complex challenges

Assertive with a go go go spirit

Funergetic with a play to win attitude
We give you
The world's best creative nest

Inspiring and meaningful projects

A multidisciplinary design-hub where you can create deliverables from start to end

Money
Please send
Your CV

Your portfolio

Your motivation
Application deadline
1st of August 2018
How to apply?
Sounds interesting?
Have a chat with our
Creative Leader of Service Design Trondheim — Ingvill Hoffart
+47 92816452