Senior/Lead Service Designer
Oslo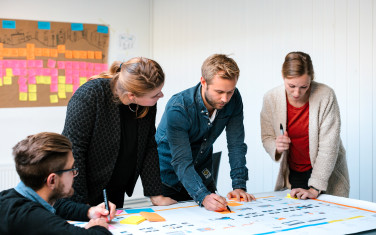 Senior/Lead Service Designer
Oslo
Does your heart beat for creating sustainable change in banking, mobility, health-care, ocean-tech or other complex areas that will radically change in the foreseeable future? Do you value the quality of your craftsmanship through the meaning and value it creates for people, business and society? We at EGGS Design Oslo are looking for our new service design colleague to share exciting adventures with. If you enjoy teamwork and contributing to multidisciplinary design-deliverables, then our creative nest might be your new professional home.
We are looking for someone who can fill the functions of a senior or lead service designer, a visual wizard in practice, conceptually strong complexity cruncher, with a deep curiosity for organizational change, people, and co-creative process. You know how to lead and to delight both teammates and customers and you have experience in doing so.
Your experience
You have several years of experience working with service design methods such as user insight and service concept development

You have conceptualized and detailed service propositions including value propositions, business models, and user journeys

You have worked with services that have both digital, physical and human touch points, and you have a good understanding of the holistic user experience

You have developed your strong visualization skills and applied them to drawings, infographics, presentations, and layouts

You have advised companies on business and innovation topics related to service development

You have managed multidisciplinary design processes and workshops

You have handled client relationships and initiated new projects

You are an influencer who likes to convey design through presentations, keynote lectures or blog-posts

You are fluent in English and a Scandinavian language
What you will be doing in EGGS
In EGGS, you will continue your development towards being a creative guru, but you will also lead other creatives, and be in charge of client relationships and projects. We would love to see you fulfill your creative potential within three domains:
As a creative, where you will develop and apply your own skill set as a "doer", and contribute to Norway's leading service- and business design community

As a client responsible, where you will often be out in client territory, helping big and small clients unleash their potential in creating sustainable business futures – smelling, telling and selling design

As a project manager, where you will structure and facilitate world-class design and innovation processes with clients, running scoping, strategy, insight, ideation, and realization phases of projects
Your mindset is
Structured and well organized

Holistic with a flair for complex challenges

Progress oriented with a go go go spirit

Funergetic with a play to win attitude
What's in it for you?
The world's best creative nest

Inspiring and meaningful projects

Responsibility and flexibility

Great colleagues

A multidisciplinary design-hub where you can create deliverables from start to end

Money
Application deadline
05. August 2018
Contact
Please contact our recruitment partners Robert Nash or Ingvild Karine Sandmo with Badenoch & Clark to learn more about this unique opportunity.
Email: robert.nash@badenochandclark.no Phone +47 92 89 96 94
Email: ingvild.sandmo@badenochandclark.no Phone: +47 916 26 877
How to apply
Sounds interesting?
Have a chat with our
Chief Creative Officer — Jan Walter Parr
+47 90854339