Nest Keeper and Office Manager
Oslo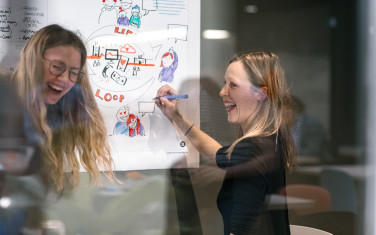 Nest Keeper and Office Manager
Oslo
At EGGS we have a vision and ambition to be The World's best creative nest. To deliver on this, we focus relentlessly on our employee experience. The employee experience encompasses both our personal and professional development and it is engrained in everything we do. To help us continue to foster, nurture, and develop our culture and operations we are now looking for a new Nest Keeper, or Office Manager if you like, at our Oslo office.
Unicorns look no further
We love unicorns and never stop looking for them. That's probably why we ask for a lot more than average when we try to describe this role. But as we never settle for mediocrity we will leave the bar high. To start off with we expect you to be fluent in one of the Scandinavian languages and have a strong command of English. Further we strongly believe that our new Office Manager has his or her picture next to compassion on Wikipedia. You put people first and balance empathy and sound judgement elegantly. When you greet people in the morning they feel your openness, warmth and urge to help and support them. Since you live and breathe service and have a world class check list system to ensure that no balls are dropped, or any details missed, you have an aura of confidence and control. You impress us with your proactiveness and inspire us with your relentless efficiency. We simply can't build the world's best creative nest without you!
So what will you be doing?
As the devil is in the details, you will know all there is to know about pretty much everything. Your finger will be on our pulse to ensure smooth operations and excellent client experiences. You will be our voice and face on all incoming phone calls, the doorbell and emails and the go-to-person for all HR-related questions. Our employee handbook will be yours to develop and share and you will know all there is to know about our policies, procedures, guidelines, insurances, benefits, partners, suppliers, systems, tools, facilities, you name it.
We plan to continue our growth and to go forward you will play an integral role in our on- and up-boarding processes, support us with recruitment and coordinate our brain-fuel activities. You will help both new colleagues and experienced leaders with their day to day tasks and challenges, and you will be our Chef & Event Manager Mona's right hand when it comes to events and social happenings. Again, the devil is in the details. That's why you start every morning walking through our studio ensuring that it is ready and representative for a new day of creativeness, you prepare our meeting rooms for client meetings and our flowers are green and healthy.
And what have you been doing so far?
We believe that you have a strong history of awesomeness, good health and sparkling energy and that you have gained experience working in the intersection between office management, service, hospitality, HR, administration and communication. You know what difference culture makes and you thrive for supporting others. A relevant degree is helpful, but it's more important that you have the right attitude, mindset and energy level. And what mindset and attitude are we talking about? Just that you know you make a difference where you are today and that you are confident, yet humble, that you will make a difference with us.
What's in it for you?
We know we are asking for a lot, but we guarantee that you will get a lot in return. Based at our sparkling new offices in central Oslo, you will get close to 100 dedicated and passionate colleagues to play with every day. Just over 50 of them are in Oslo with you, and the rest are in Stavanger, Trondheim, Copenhagen and São Paulo. You will play a key role in our Nest team together with the other office managers, our Chef & Event Manager, IT Manager and Finance Manager and report to our COO. In addition to a genuinely human-centric, warm and compassionate culture we have all the perks you would expect from a design agency; shuffleboard, ping pong table, AR and VR toys, ski trips, BIG trips, low threshold for celebrating and a DELICIOUS lunch served every day by the most amiable chef in town, the legendary Mona.
Now what?
If you want to make a difference and can relate to our values GO GO GO, Dare to Share, Make People Tick and Play to Win, please raise your hand and send us your motivational letter and resumé! Questions?
Application deadline August 5th.
How to apply?
Sounds interesting?
Have a chat with our
Chief Operating Officer — Øyvind Lium-Valmot
+47 99009949