Lead Digital Designers
Oslo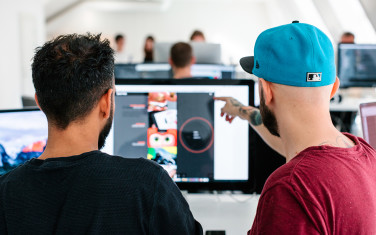 Lead Digital Designers
Oslo
Would you like to take part in developing EGGS' professional environment within digital design? We have two new positions for lead digital designers at our Oslo office. EGGS' continues to grow and to meet the increasing demand for digital design we are now seeking two Lead Digital Designers to our office in Oslo. We are looking for you who are both passionate about creating tomorrow's digital products and services, and eager to take the role as a leader of the design teams and the creative processes.
Ready for the next step?
If you have reached a level where you want to work hands-on creatively and you master overseeing projects from start to finish, you enjoy leading others and you'd like to contribute to EGGS' development within digital design, well, then we definitely think that we could be a good match!.
Working in EGGS
In EGGS you will experience a balance between structure and creativity, and the connection between technology, design, branding, and business. You will be a part of a culture where everyone strives to cultivate the best workplace for creative minds, in an environment that is open to everyone.
Your workplace will be at our new office on the third floor of Møllergata 4, right in the center of Oslo. We will move there August 1, 2017. The new 1200 m2 space is designed based on our vision and values of creating the world's best creative nest.
We offer you
A wonderful workplace where the ambition is to be the world's best workplace for creative minds

Co-workers who do not take themselves seriously but who take their work very seriously

The possibility to work in multidisciplinary teams with digital design, service design, industrial design, branding, business development and creative technology

High standards, high job satisfaction, high energy levels and personal motivation

A healthy and good lunch every day, made by our beloved chef Mona

A large creative environment, that is driven by technology and user-centered design processes

The opportunity to work with exciting customers and high-quality complex projects

A workplace that emphasizes value creation through design more than anything else

To take part in developing how we work with UX and digital design in EGGS
You are
A committed driver of digital design and UX

Passionate about value creation through good design craftsmanship

Can show experience and competence with relevant design projects

Used to leading both large and small digitalisation projects

Used to leading others

You thrive when you contribute to your team thriving

A good facilitator and inspiring for others to work with

You enjoy working with complex projects juggling several balls at once

You have the flair for seeing the big picture while handling all the nitty-gritty details

Enjoy collaborating with clients, enjoy being an advisor and in developing our clients

Self-driven and with a high work capacity

Master a Scandinavian language fluently, and preferably strong English skills

Have a Master's degree in design or other relevant higher education
How to apply
Please contact Mediabemanning, our recruitment agency, for questions concerning the application process and for informing us of your interest in the position
Please share
Your CV

Your portfolio, either as a PDF or link to your online portfolio

Your motivation for working in EGGS
Application deadline
We review applications on an ongoing basis
Sounds interesting?
Have a chat with our
Creative Director of Digital Design — Jens Fredrik Allworthy
+47 95216554