Front-end Developer
Trondheim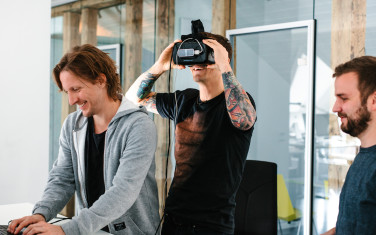 Front-end Developer
Trondheim
Are you a full-stack creative developer with the skills to contribute in the entire innovation process from concept to realization? Are you a technologist whose passion for creating amazing online user experiences is matched only by your devotion to your craft?
Working with EGGS
We would love to see you fulfill your potential in EGGS where you will contribute to further developing one of the best creative technology teams in Norway. We are searching for a candidate who ideally has the experience of a full-stack web developer, whose main interest lies in creating meaningful products with a focus on exceptional user experiences. Contributing to the entire process and interfacing with exciting clients is something that gets you motivated. You want to be more than just a production machine!
Your skills include
Experience with HTML

JavaScript and CSS Experience integrating with web technology

APIs Experience developing for all devices, browsers and screen sizes

Knowledge of best practices, common libraries and frameworks for web development

Knowledge of optimizing, building and deploying complex web solutions

Passion for writing beautiful, semantic, understandable code

Interest in crafting beautiful, sophisticated and intuitive

UIs Working with Agile methodologies and collaboration through Git

Working and collaborating closely with designers

Handling client relationships and initiating new projects

Fluency in a Scandinavian language
You might also do
Digital Design / UX

Backend development

Internet of Things

Electrical engineering

AR/VR Machine learning

Native apps

Cloud Services
Your mindset is
Organised and structured

Holistic with a flair for complex challenges

Assertive with a go go go spirit

Funergetic with a play to win attitude
We give you
Mixed teams with developers and designers

The world's best creative nest

Inspiring and meaningful projects

Responsibility and flexibility

Money
Please send
Your motivation

Your portfolio

Your CV
Application deadline
We'd love to hear from you by 17. August
How to apply
Sounds interesting?
Have a chat with our
Regional Director Trondheim — Helle Moen
+47 97786406