Are you the one we are looking for?
Oslo & Stavanger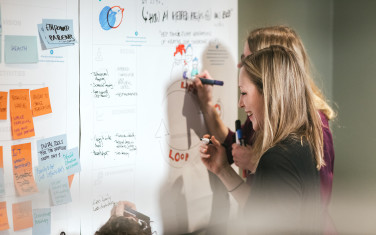 Are you the one we are looking for?
Oslo & Stavanger
Does your heart beat for creating sustainable change within domains that are radically changing, like healthcare, energy and ocean-tech? Do you wake up in the morning to design meaningful services and products?
We at EGGS Design are looking for you who measure the quality of your craftsmanship through the meaning and value it gives to people, business and society. You might be a visual wizard, conceptually strong complexity cruncher, love converting needs into beautiful and exceptional user experiences with outstanding service identities, and have a deep curiosity for organizational change, people and co-creative process. We are looking for empathic problem solvers to join us for new exciting adventures.
Working at EGGS Design
We would love to see you fulfill your potential in EGGS where you will contribute to further developing one of the best design environments, and the largest independent innovation and design agency in Norway. EGGS Design has industrial design as our backbone, and future colleagues of yours are Service designers, Digital designers, Product designers and Creative developers in Sao Paulo, Copenhagen, Oslo, Stavanger and Trondheim. If you enjoy team work and contributing to multidisciplinary design-deliverables, then our creative nest might be your new professional home.
Your skill-set is
Show us your design-expertize through your work-samples and portfolio. We need both to see your nerdy depth, and your flair for complexity, learning and drawing upon adjoining competences to make results fly in the real world.
Your mind-set is
Structured and well organized
Holistic with a flair for complex challenges
Assertive with a go go go spirit
Funergetic with a play to win attitude
We give you
The world's best creative nest
Inspiring and meaningful projects
Responsibility and flexibility
The most talented colleagues
A multidisciplinary design-hub where you can create deliverables from start to end
Money
Please send
Your portfolio/ work-samples
Your CV
Your motivation letter
Application deadline
15th of march 2018
Please send your application using our recruitment system:
Senior Service Designer Stavanger
Sounds interesting?
Have a chat with our
Chief Operating Officer — Øyvind Lium-Valmot
+47 99009949